Many people are looking for meaningful alternatives to current lifestyles.
We come together as activators of nature based processes to enable transitions towards regenerative livelihoods.
We are a collective of socially engaged designers and educators with a regenerative and holistic nature-based approach.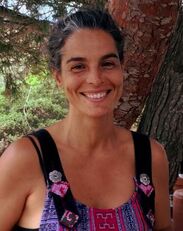 ​Ana Marreiro
Ethical Chef and Facilitator

​Ana Marreiro starts her journey on conscious food at the age of 14. She engages more deeply in the immense world of food in 1997 when studying at the Macrobiotic Institute of Portugal and gains practical experience cooking for events and groups. In 2004 opens her own restaurant Unicórnio in Portimão. It serves as a meeting point for all those interested in natural food (vegan and sugar-free) in the urban context. At the same time, due to being a mother, she is also interested in alternative education, getting involved with Waldorf pedagogy and other approaches that put the human being at the center of integral learning. In 2010, feeling a growing ecological responsibility she discovers Permaculture and takes the Design Course with Lesley Martin.Growing her own garden, processing surplus, producing natural cosmetics and cleaning products naturally follows. The need for a like-minded social environment takes her to Quinta do Vale da Lama where she worked for six years as part of the educational team, while also creating Sweet Spot Café venue. She dedicates herself to Farm to Fork concept which involves the ethical and healthy production of food and making complete and abundant meals in the context of regenerative livelihoods.Over the years she has specific training in various subjects including Bio Construction with Nuno Mamede, Soils with Sérgio Marachin, Permaculture Teacher Training with Rosemary Morrow and Sociocracy 3.0 with James Priest. She implements various tools of community living, non-hierarchical organization and shares her experience through workshops and initiatives that promote questioning food choices through an ethical approach.
---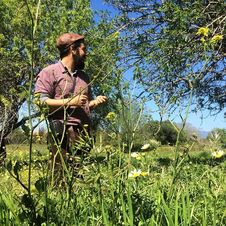 Hugo Oliveira
Biologist, Landscape ecologist & Designer of Regenerative Ecological Systems

With his academic background on Biology and Landscape Ecology Hugo is now focusing his work and research on participatory Design of Regenerative Ecological Systems. He worked on Agroecology and Permaculture for the NGO Naterra - Education for Sustainable Development Association based in Macao-China, being one of the co-founder, bringing him to worked in East-timor with local communities on sustainable livelihoods. He is a researcher at the Center for Ecology and Environmental Change at the University of Lisbon. with an MA in Ecological Design Thinking from the Schumacher College/ Plymouth University, he is now working on his PhD thesis on "Sustainability transitions through grassroots management of resilient agro-environmental systems: The case study of the Permaculture landscape design movement in Portugal" for the University of Évora. Mentored by Max Lindegger (in Portugal, Australia and Thailand) Rosemary Morrow (with whom co-taught a Permaculture Design Certificate), Seaton Baxter (Schumacher College) and Teresa Pinto-Correia (U. Évora). Studied Ecovillage Design Education (EDE) in several living Ecovillages such as Tamera Healing Biotope I, Auroville, Crystal Waters and Wongsanit Ashram; Permaculture and Biodynamic Farming in diverse bio-climatic zones (tropics, arid, altitude and Mediterranean semi-arid). He've co-created regenerative systems in Macao, East Timor, Thailand, central and south Portugal, ranging from homestead gardens & Permaculture demonstration centers, food forests, educational & Nature connection centers, schoolgardens, rooftopgardens, biogas, agroforestry systems and others... Lately he has been dedicating his work creating landscape regenerative strategies for rain-fed agro-silvo-pastoral systems within the Mediterranean semi-arid.
---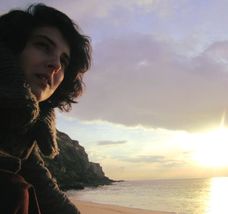 Patrícia Pereira
Regeneration Trainer and Facilitator
​
Patricia Russo Pereira is an Education for Regeneration trainer and facilitator. She is dedicated to create opportunities that enhance nature and its materials as the main resource in outdoor learning contexts.
She participated in courses and experiences in the scope of Regenerative Education, Permaculture and Ecovillage Design in projects with several teachers namely Max Lindegger (2007), John Champagne (2010), Rosemary Morrow (2011).
Between 2004 and 2010 has developed her professional career in Southeast Asia. Macau, Thailand and East Timor were some of the destinations where she developed projects and learning experience. She highlights Brainstorming Creations lda., an artistic and environmental education initiative (2005-2007) and NaTerra Association, Raio de Sol (2008-2010), Education for Sustainability in East Timor.
After training at Emerson College and International School of Storytelling (2011) she starts working on Projecto Novas Descobertas at Quinta do Vale da Lama in 2012 as member of the coordination team and accountable for Sustainability Education Programs.
She becomes part of the teaching team in the Permaculture Teacher Training with Rosemary Morrow at Quinta Vale da Lama - Portugal (2013) and Quinta Son Barrina - Maiorca (2015). Since 2012 she co-coordinates and co-facilitates educational courses and workshops at Quinta Vale da Lama, namely the annual PDC with Lesley Martin and Summer Camp Counselors Training.
Joins Orla Design with head, heart and hands fully motivated to develop new initiatives that contribute to solid practices and behaviors of Ecosocial Regeneration.
---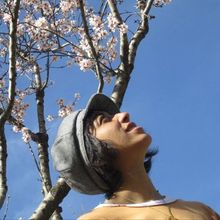 ​Xana Piteira
Networker and Facilitator
​
Her roots travel the globe from Lisbon to Macau and her luggage caries training in Psychology, Education, Permaculture, Regeneration and Communities. During her journey she becomes catalyst of several social initiatives in the field of Education and Permaculture, namely Brainstorming Creations Lda (Macau, 2005), NaTerra (Macau – East Timor, 2008) and Quinta do Vale da Lama (Portugal, 2012).
She thus gains her experience in co-creating and implementing projects and as a group process facilitator in the scope of integral and participatory education. Collaborates with mentors as Lesley Martin, Rosemary Morrow and James Priest.
Catalyst for social transformation, nature connection and reinventing communities, Xana believes that people want more and more to lead a life with purpose and that our ways of working together need to be more effective and potentiate interdependence and support to each other.
Joins Orla Design with special interest in addressing daily needs of people, families, work groups and local communities, facilitating collaboration as life unfolds and becomes more meaningful. Envisions a world where people self-organize according to their needs and take responsibility for their own learning.
---
Collaborators:
Gisele Henriques
Food security & Livelihoods

Gisele Henriques is a food security and livelihoods specialist with 10 years experience in supporting the work of local organizations, social movements and communities in Brazil, Gambia, Burkina Faso, Cambodia, Indonesia and Timor Leste. She is currently the livelihoods adviser for CAFOD, the Catholic Agency for Overseas Development, supporting programs in resilient livelihoods. She has a Masters in Public Policy from the Goldman School at UC Berkeley as well as an MA in International Area Studies with a focus on small holder food producer and technology adaptation.
---