PhD Thesis
"Sustainability transitions through grassroots management of resilient agro-environmental systems: The case study of the Permaculture landscape design movement in Portugal" - Hugo Oliveira, Universidade de Évora
---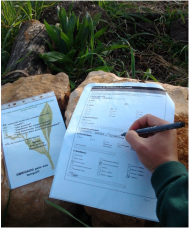 Preliminary survey Permaculture Movement in Portugal - for PDC holders living in Portugal...
(Click here)
Do you have a PDC (Permaculture Design Certificate)?
Are you living in PORTUGAL?
We invite you to contribute for this Research by answering this small survey (+/- 5minutes).. With this preliminary survey, within a PhD plan in Interdisciplinary Landscape Management from the University of Évora,…
SURVEYMONKEY.COM
for each survey answered, a FRUIT Tree will be planted.
Support this REGENERATION!!!
Thanks
---
Life+ "Montado&Climate: a need to Adapt"
We are collaborating with the Center for Ecology, Evolution and Environmental Change CE3C, within the subgroup on climate Change adaptation and sustainability (CCIAM - FCUL) on the participatory SenarioWorkshop and AdaptationPathways (SWAP) workshops for the LIFE+ "Montado-Adapt: Montado & Climate, a need to adapt" Project.